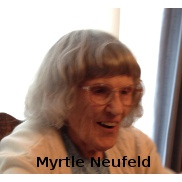 Myrtle Blabey Neufeld
Myrtle Blabey Neufeld, born Myrtle Alice Blabey, is a Seventh-day Adventist missionary nurse. She has been married for more than 50 years to Raymond D. Neufeld, a missionary doctor and tells her story in her book, Directed Paths.

She has four children, Betty, Robert, Patricia, and Henry, and remains in a very active retirement in the Niagara Falls, NY area.
Where to Buy
On Our Aer.io Store